HM the King launches in Salé the construction work of an artistic and cultural animation complex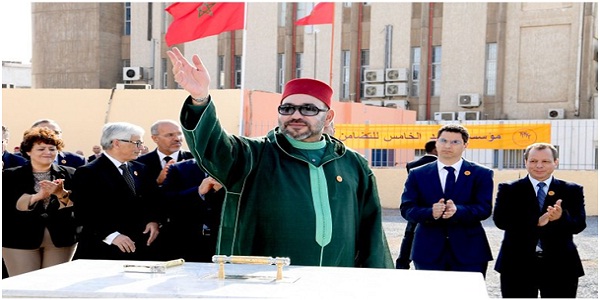 His Majesty the King Mohammed VI proceeded on Thursday at the Tabriquet district in Salé, at the start of the construction work of a complex of artistic and cultural animation, a new concretization of the high royal solicitude constantly shown towards the sector of art and culture.
A socio-cultural vocation par excellence, this complex, which will be realized by the Mohammed V Foundation for Solidarity, will not fail to improve the access of the local population to the structures of cultural and artistic animation, with all that in comes in terms of developing intellectual potential and creative abilities.
Mobilizing investments in the order of 16 million dirhams, this project will be erected on a plot of 3,000 m2 and will eventually be a space for reception, service and artistic and cultural animation, promoting the emergence of new talents among the younger generations and the development of artistic projects.
Result of a partnership between the Mohammed V Foundation for Solidarity, the Ministry of Culture and Communication, the Prefectural Council and the City Council of Salé, the future complex will benefit more than 20,000 young people per year. It will house a theater center with a performance room, with a capacity of 200 seats with backstage and artists' lodges, an exhibition hall and a workshop for learning theater techniques.
This cultural project will also include a Music division (music and restoration and musical instruments tuning workshops), a Body Expressions division (choreographic learning rooms), a graphic arts center (arts workshops, plastics, calligraphy and computer graphics), and a Book Club housing a library, a media library and a workshop to learn the techniques of restoration, binding and gilding of books.
Training and rehearsal space for the theater and music groups of the city, this complex, which will be realized within 24 months, will contribute to the strengthening of the artistic and cultural infrastructures of the region and the promotion of all forms of creative expression, in harmony with the secular heritage of the city of Sale and the new, multiple and varied trends of modern life.
---
MAP 17/05/2018