Cemeteries
The communal council of Sale is concerned with organizing and maintaining the cemeteries and preserving  them  through buying new lands and specifying them to bury the dead of Muslims, and equipping  already existing cemeteries. For this purpose, the commune signed a deal with a specialized company for the purpose of daily continuous maintenance of cemeteries ,through  managing  paths ,paving them,  uprooting  weeds  and throwing  away all kinds of  garbage , maintenance and painting of walls , besides providing permanent guards .
Besides, maintaining the morgue  in the communal bureau of preserving health which  was equipped with necessary tools to preserve corpses, together with maintaining cars for transporting the dead.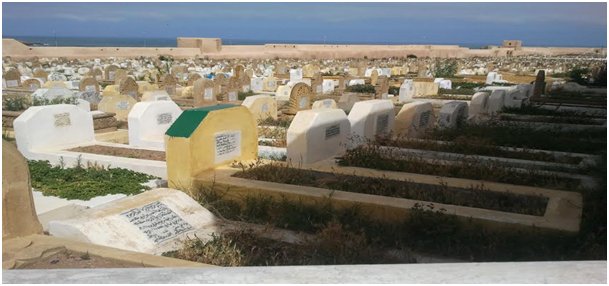 It is worth mentioning here that the reopening  of the cemetery of Sidi Belabass after managing it will alleviate pressure on the local cemeteries and  provide sufficient and convenient surfaces to bury the dead of Muslims.
| The district | Cemeteries | The area | The proportion of overfilling |
| --- | --- | --- | --- |
| BAB LAMRISSA | Bab Maalqa | 50.000 | 100% |
| | Sidi Ben Acher | 25.000 | 100% |
| BETTANA | Sidi Bel Abbès | 12.000 | 10% |
| LAAYAYDA/ TABRIQUET | Sidi Daoui | 35.000 | 90% |
| | Sidi Abdellah | 35.000 | 35% |
| H'SSAINE | Sidi Daoui | 12.000 | 100% |
| | Sidi Bou Gtaya | 11.240 | 90% |
| | Sidi Bou Maaza | 9.570 | 70% |
| | Douar Riah | 24.400 | 100% |
| | Sidi Hmida | 8.000 | 60% |
| | Sidi Maachou | 8.400 | 70% |
| | Sidi Mohamed Benali | 4.200 | 90% |