Salé equipments
Sale city is open to national and international traffic roads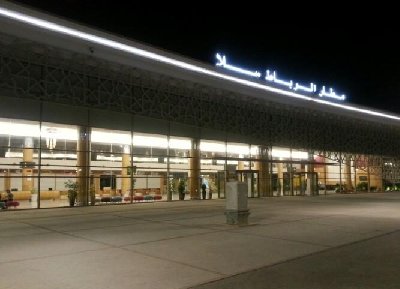 On the national level, Sale city is connected to the railways. The train stations Sale city and Sale Tabrikt are its national gateways.
Besides, the city is connected to other cities of the kingdom through the national roads number 1 and number 6, and also through the highway linking between Tangiers in the north; Aljadida , Settat, Marrakesh and Agadir in the south, passing through the economic capital Casablanca.
Internationally, the airport Rabat-Sale located near the city, 8Km in the North East of the political capital of the kingdom is considered a gateway to the external world. In December 2015, it has known a total of 65 739 travelers, which makes an increase of 19,86% compared to the same month in 2014. Moreover, the fact that the city is on the Atlantic coast is a real opportunity to set a sea outlet to the world.
The National Center Moulay Rachid for Sports in Sale
The National Center Moulay Rachid for Sports in Sale is a sport center subsidiary to the royal institute for training agents of youth and sport. It contributes in training agents in the field of sport, youth and childhood. It has different sport facilities and equipments. Hence it provides an auditorium with 450 seats, rooms for teaching and others for conferences, a library, residences, a restaurant, a dwelling place for sport people, an Olympic swimming pool, rooms for practicing different sports, fields for football, volley ball, tennis and other sports together with a medical space.
The National Center Med VI for disabled people
The foundation Med VI for solidarity set up the National Center Med VI for the disabled in Sale. This project took the form of a multi-functional structure for people with special needs. It is considered a medical and educational center which aims at:
Medical, educational and social adoption of disabled children and teens.
Presenting services to adults and to the families of disabled children and teens.
Working in collaboration with all the institutions which work for the same goals.
Giving advice and assistance, and managing the services of medical examination, prevention from diseases, educational and professional training, employing and presenting educational activities in an open space for the benefit of disabled children and teens.
Presenting services for the benefit of disabled children, teens or adults, and developing research activities.
Collaboration with partners in initiatives and achievements that go in the same context, especially with associations and organizations which work for the same goals.
Promoting solidarity for the benefit of disabled children, teens and adults especially through developing associative life.
The participation in every activity with social, educational, economic, professional and cultural objectives. The thing which would facilitate the integration and the promotion of disabled people.
The participation in the training and the qualification of the functionaries of the center.
The activities of the center are about four poles revolving around a central administrative body:
A social educational pole.
A medical social pole.
A training pole.
A sports pole.