HM the King Launches Construction Works of 45-Storey Tower in Bouregreg Valley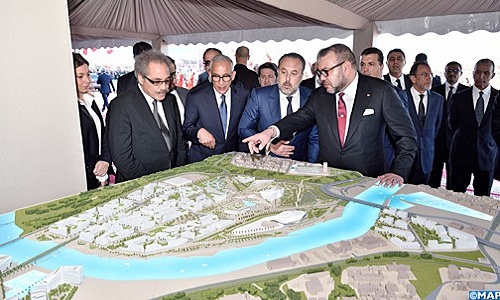 HM King Mohammed VI launched, here Wednesday, the construction works of a 45-storey tower in the Bouregreg Valley.
The highest in Africa, the 250-meter-high tower will integrate state-of-the-art technologies for improved energy efficiency, in line with Morocco's commitments to sustainable development.
A third of the total surface of the façade will be covered with photovoltaic panels to meet the electric needs of the tower.
Built by the BMCE Bank Group on a plot of 3 hectares, the future tower will house a 350-seat auditorium, services and shops on the ground floor, offices on the first 12 levels, residential apartments from the 13th to the 26th floors (55 apartments) and a luxury hotel on the upper floors. The top four floors will be reserved for high-standard apartments.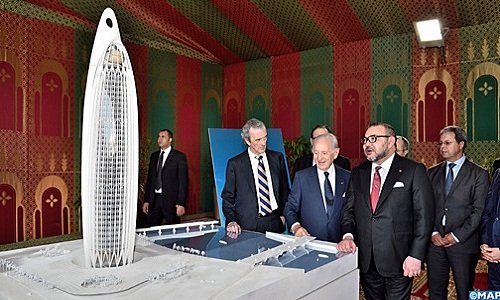 This tower, whose implementation will require an estimated budget of around 3 billion dirhams, will be the highlight of the development of the Bouregreg valley, a key component of the 2014-2018 Integrated Development Program dubbed: "Rabat, City of Light, Moroccan Cultural Capital", launched by the Sovereign in May 2014.
This new project also provides for building several innovative facilities, namely the Grand Theatre of Rabat, the Arts and Culture House, the library of the National Archives of the Kingdom of Morocco, the Archaeological Museum and earth sciences, a multiplex cinema, a sculpture gallery, a Marina, an art hotel, a marina hotel, a mall and shops, a business center, residences and public and private facilities.
---
MAP 09 March 2016