HM the King Inaugurates Primary Health Care Centre in Salé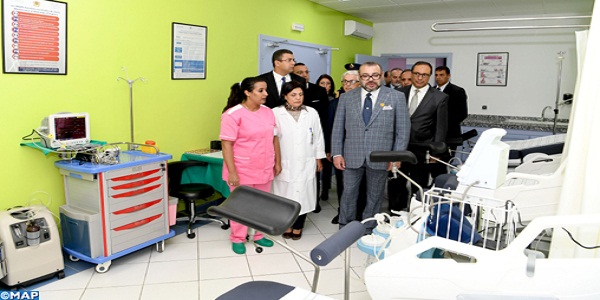 HM King Mohammed VI inaugurated, Tuesday in the Sidi Bouknadel commune (Prefecture of Salé), a Primary Health Care Centre carried out by the Mohammed V Foundation for Solidarity for an amount of 16 million dirhams.
The centre, whose building works were launched by the sovereign on June 10, 2016, mirrors the royal will to reinforce the health care offer via community-based quality medical services that meet citizens' needs.
It is also in line with efforts made by HM the King to increase the access of the underprivileged to medical care, step up emergency surgical operations, and fight the irregularity of periodic medical monitoring which could worsen the condition of people with chronic illnesses.
The new facility, which will serve a town with over 75,000 inhabitants, falls under the action program led by the Foundation and aimed at supporting the national medical sector through community programs and innovative mechanisms for special needs people.
The centre will provide local population with community services in emergency cases, chronic pathologies, and curative and preventive care. The beneficiaries will have a multidisciplinary medical care offer covering the treatment of chronic diseases and maternal and child health.
Built over a surface area of 2,100 square meters, the facility includes an emergency unit with a radiology room and a laboratory, check-up rooms for general practice and speciality (cardiology, nephrology, endocrinology, and ophthalmology), vaccination, dental care, a room to relax and a pharmacy.
It also comprises a delivery ward with rooms for obstetric gynecology, expectant women, delivery, newborn care, as well as two hospitalization rooms (4beds). Women could also benefit from awareness-raising sessions and programs for family planning and reproductive health.
The centre has also an ambulance to carry emergency and complicated cases towards the provincial hospital centre or the nearest university hospital centre.
---
MAP: 05/12/2017