HM the King Inaugurates Rabat Motorway Bypass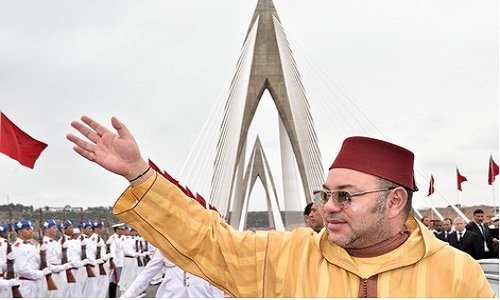 HM King Mohammed VI inaugurated, on Thursday, the Rabat motorway bypass, a major infrastructure project carried out for an amount of 3.2 billion dirhams.
On this occasion, the Sovereign named the first cable-stayed bridge over the Bouregreg valley the "Mohammed VI Bridge".
The construction works of the 42km-long Rabat motorway bypass were launched by the Sovereign in February 2011.
The motorway will help alleviate traffic in the cities of Rabat and Salé, reduce the emission of greenhouse gases and generate economic benefits for the two cities.
The Mohammed VI Bridge is the longest cable-stayed bridge in Africa.
The bridge, which was built over Oued Bouregreg, is 950 meter long with two 200 meter-high main towers.
The bridge's architecture is inspired by the Arab-Muslim civilization.
The cost of the construction works of the Rabat motorway bypass, including the "Mohammed VI Bridge" amounted to 3.2 billion dirhams, financed by the European Investment Bank (EIB) and the National Company of Motorways in Morocco (French acronym ADM).
Through this new major infrastructure major, Morocco's motorway network increases to 1.630 km.
---
MAP 07 July 2016