The commune of Salé intensifies its efforts to circumvent the effects of stormy rainfall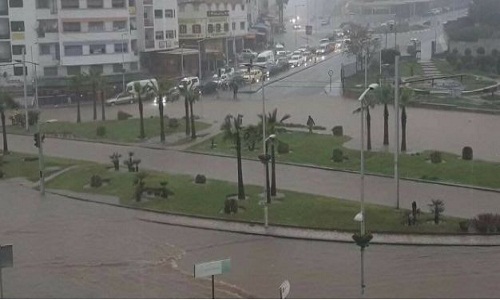 Following thunderstorms in the town of Salé, causing widespread flooding, this Thursday, February 23, 2017, Mr. Abdellatif Soudou, vice-president in charge of works and urban development, affirmed the taking of all necessary measures In order to circumvent the difficulties relating to this inclement weather.
To this end, Mr. Soudou informed that Mr. Jamaâ El Moâtassim, President of the commune of Salé, is currently with the Governor of the city of Salé and the other departments responsible for a Crisis Staff, to cope with these heavy rainfall. He also pointed out that REDAL's technical teams were immediately mobilized and dispatched to the site for the evacuation of rainwater.
Moreover, according to a video posted on his Facebook account, Mr Soudou showed that the heavy rains in the city of Salé were phenomenal, given their intensity which reached 70 mm in less than four hours. He also pointed out that the city of Salé has not experienced such bad weather for 20 years.
He therefore pointed out that all the vehicles in the city, whether related to urban planning or cleanliness, had been mobilized to help the inhabitants; While insisting on a decision to use all available means to monitor the impact of these rain showers.