Installation of the new governor of Salé prefecture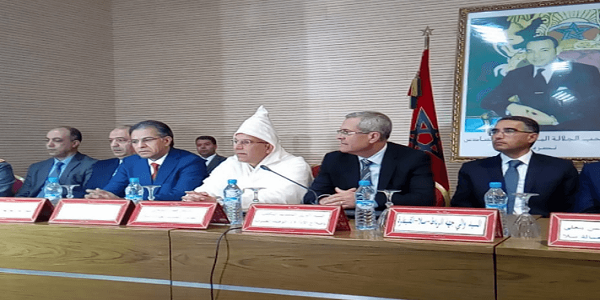 The Deputy Minister for the Reform of Administration and Civil Service, Mohamed Benabdelkader presided, Wednesday, February 20, 2019 in Salé, the installation ceremony of Mr. Omar Touimi, which HM King Mohammed VI appointed Governor of the prefecture of Salé.
This investiture ceremony was attended by MM. : Mohamed EL Yaâkoubi, Wali of the Rabat-Salé-Kenitra region; Abderrahmane Benali, ex-governor of Salé; the vice-president of the regional council; Jamaâ EL Mouâtassim, president of the commune council of Salé; the president of the prefectural council; the Governor representing the Minister of the Interior; the President of the Military Garrison; the President of the Court of First Instance; in addition to the president of the provincial safety district; certain persons in charge of the National Security, the Royal Gendarmerie, the Civil Protection and the Auxiliary Forces; presidents of the boroughs of the city; as well as the representatives of the external services, the Judiciary and the local authority; elected officials; actors in civil society and the press and the media.
Born on September 14, 1970 in Larache, Mr. Omar Touimi holds a doctorate in public law and laureate of the Royal Institute of Territorial Administration.
He began his career as an agent of authority in 2001, as a caïd at the Directorate General of Internal Affairs at the central administration of the Ministry of the Interior, before being appointed caïd at the prefecture of Rabat in 2002 , then boss, chief of cabinet of the governor of the prefecture of Salé in 2003.