The Association of Social Works of Officials of the Commune of Salé celebrates its women on the occasion of March 8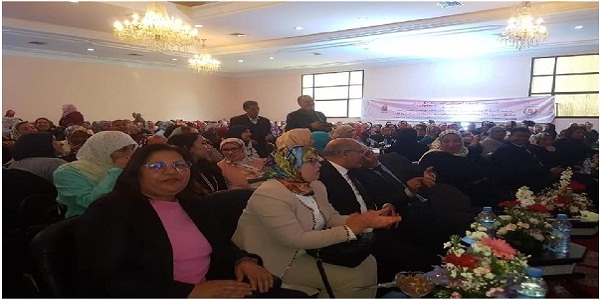 Women civil servants overwhelmingly responded to the invitation of the leaders of the A.O.S.F.C.S.  this Friday, March 8, 2019, which marks their international day; and whose tribute ceremony took place at the big communal hall in Bettana.
In addition to the honored women, Jamaâ El Moâtassim, president of the commune of Salé, a number of members of the municipal council, the presidents of the district councils, as well as many members of the communal council attended the celebration.
During this festive event, the president of the municipality of Salé emphasized the crucial role played by women in the stability of society and the need to ensure the improvement of their social and legal status and their working conditions, because it's the way to maintain social cohesion. He also praised the leading administrative role played by the employees of the municipality in the various departments and divisions and their constant involvement in the success of all projects supervised by the municipality with a high level of competence.
The ceremony was punctuated with musical pieces and was an occasion for the symbolic distribution of gifts to the women present.